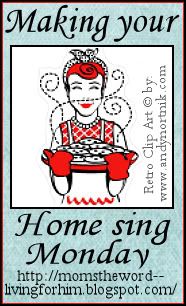 This Monday I am back on track and joining Nan at
Moms the word
for Making your Home sing Monday.
I have an admission to make. I have not been in prayer or God's word very much at all lately. There, I said it!! Life has been busy over the last few weeks and this has meant that any Bible reading or regular prayer has fallen by the wayside. I know this shouldn't be the case.
The problem I have is getting 'quiet time' with God. The kids wake at ridiculously early times in the morning so I have no way of doing it then. In the evening, once the kids are in bed I often get my quilting projects out and spend time on these.
I don't feel proud of myself when I go through these 'episodes'. Some weeks I can throw myself into the Bible and pray frequently, but then other weeks such as recently I experience a self imposed drought.
This is one of my weaknesses I hate about myself. It is almost cyclical and I don't like this side of myself one little bit!!!
SO; This week, to make my home sing, I need to pray about all of this! Either that I accept it for what it is or make changes to my life that will be consistent and not erratic.