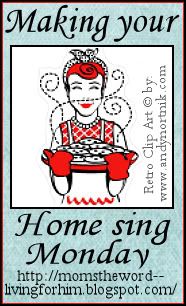 Today is when I join with the lovely Nan at her blog,
Moms the Word
. If you wish to join in then please take a look at her blog for instructions on how to do so.
My first quilt is finished!!! It is far from perfect but it is cute and I love it! The head and feet in the first photo are Emma's! She loves it and I was going to put it at the end of her bed until I feel confident enough to tackle a large quilt. I just wanted to keep the first one small as it has been years since I have sewn and I didn't want to make a mess of it!

Excuse the washing hanging on the clothes horse in the first photo! Oh and the books lying on the floor!

This is how I will make my home sing today. By not getting hung up on the lived in condition of it. My home will never be perfectly tidy but at least it is clean! I used to get so stressed and still do, sometimes about toys lying around, clutter and so on. I don't want to have a tip of a home but I have two children and I cannot expect perfection!

God has given me a home to be lived in and children to live in it! I am thankful for a home where God is at the heart of it and I have a family to fill it.
********* added Monday 12/10; please can everyone pray for one of our Church Elders and a good family friend, George. He was taken into a+e on Saturday in severe pain. They thought it was a kidney stone but it appears it is not. Please pray for him and his lovely family and that they get to the root of the problem soon. ****************************