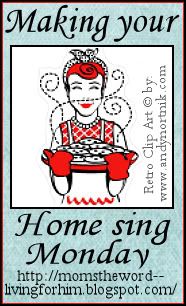 On Monday I like to join the lovely Nan over at her blog,
Moms the Word
. We all link up to discuss how we are going to make our homes sing! "It can be an attitude or an action. Motivation, our attitude, baking, encouraging our husband or children (if we have either one), organization, cleaning, saving money....the opportunities are endless." (Nan).
This weekend I have had a sick child. Emma has had a temperature, sore throat and cough. She has been a wee lamb. So yesterday I didn't get to Church, Jacob went with a lovely friend and then his Dad later in the afternoon. I am hoping Emma begins to pick up today!
When my two are ill they sleep lots so I have been taking advantage of this and got ahead with my latest quilt project below. I got this fabric on sale! £5 for 40 Moda Charm squares! This is for my dear mum. She turned 60 on Friday! We had a lovely day where I made her and Dad lunch, a birthday cake and just a nice time. So this quilt top is small just now but I intend to add quite a wide border. I just need to get out to get some more fabric. I am pleased with how each block turned out. I decided to cut them all up and sew together to make new blocks from triangles of fabric. I am keeping it simple though because I am no seamstress!
So how am I going to make my home sing today? My home is quite a prayerful one at the moment! I have an ill child to pray for, Colin was a bit down yesterday and had to take the night off work, so I have to pray for my husband. I am thankful to God for this new hobby I have. It is so relaxing and keeps my hands busy and from just sitting in front of the TV. I don't even switch it on in the evening now! Jacob is back at school on Wednesday, so I will be praying for safety for him. So this week I hope that I continue to use my home to bring glory to God in everything that goes on here!
16Be joyful always; 17pray continually; 18give thanks in all circumstances, for this is God's will for you in Christ Jesus.
1 Thessalonians 5:16-18 NIV.