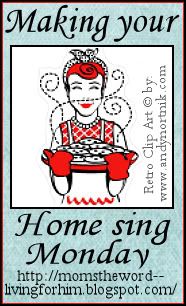 Well it's Monday again already! That means it is time to join my friend,
Nan
, over at
Moms the
Word
for
Making your Home Sing Monday
.
Today I am going to make my home sing by thinking about the following verses;
19My dear brothers, take note of this: Everyone should be quick to listen, slow to speak and slow to become angry, 20for man's anger does not bring about the righteous life that God desires.
James 1: 19 - 20. 9 NIV.



I don't know about you, but I am the opposite of these verses more often than I like! I am slow to listen, quick to speak and even quicker to become angry!

Yesterday I was with the kids from 6am, through 2 Church services and creche, then bath and bedtime. My patience was wearing thin by teatime as the kids began to act up. Colin was getting annoyed with the kids and I was getting annoyed at Colin for feeling annoyed!!! (crazy!). I snapped at Colin and the kids continued to play up. It was not a peaceful teatime at all!

I am far too quick to open my mouth and let my belly rumble. It is easy to maintain peace in the home when the kids are behaving, you have had a good day and all in the world is good. It is harder to maintain when small ones are misbehaving, and you have had a stressful day. It is during these times and days that I certainly should be asking God for his help more. It is all too easy to get caught up in the situation, over react and then feel crumby for doing so. Maybe stopping and praying then and there would be more constructive!!

So today I am going to try and make my home sing by thinking about these verses...... in fact maybe I will print them off and put them somewhere prominent! I will stop and pray when it all gets too much, which it will at some point of the day, guaranteed!

So how are you going to Make your Home Sing today?