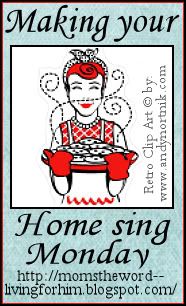 I can't believe it is Monday again already! Today I am joining Nan at
Moms the Word
for Making your Home sing Monday. If you would like to join in then please click this
link
.
Where do I start??? That is how I am feeling about my home at the moment! God has given me a lovely roof over my head but I sometimes feel it is all just a bit too much. Several weeks ago I came up with a list of chores to do each day. Guess what? My laziness has overtaken me and the list has fallen by the wayside!
She watches over the affairs of her household and does not eat the bread of idleness.
Proverbs 31:27 NIV.
I just can't seem to get on top of things. No sooner is one room clean and then another needs done. And so it carries on like a vicious circle. God has called mothers to be keepers of their homes ;




1
The wise woman builds her house,
but with her own hands the foolish one tears hers down.
Proverbs 14:1. NIV.

I do so well with this some weeks but other weeks I am so lazy and demoralised. I blame hormones!!! However, I can't be led by my feelings all the time. The last week I have been caught up in anxious thoughts and worries with a child starting school. I have, to an extent, let these feelings take over. I need to prayerfully put this in perspective.

This week I am going to make my home sing by focusing on the above two verses through prayer. I need to ask God for his strength when I feel the temptation to be plain bone idle creep in. I cannot do things in my own strength.